Party On Tent Rental of Jefferson, NJ, has tent packages to cover events of any size. Take a look at our party packages and pick the one best suited for your group. Then contact us for a customized solution for your special event. We offer graduation package deals that will accommodate parties of all sizes.

Quick Tip
You will want to accommodate 50% of the total number of guests expected to attend, as not everyone will be at the party at the same time. For example, if you expect 100 people, choose the 20×30 package that accommodates 60.
Pole Tents
Traditional pole tents date back to the old circus-style big top tents. The vinyl top is supported by poles located under the center of the top and then tensioned over the side and corner poles. Sizes range from 10′ wide up to 40′ wide and are expandable.

Frame Tents
These are traditional free-standing aluminum structures with no center poles. This allows for optimum interior space, and the tops are made with a durable high polished 16 oz. vinyl laminate. We have invested in the latest technology to keep our tops clean and bright. Most of our tent tops are expandable in 10-foot sections to give you the versatility to expand. The frame system is a rigid structure with aluminum tent pipes and galvanized steel connectors and frames are secured with tent stakes, anchors, or weights.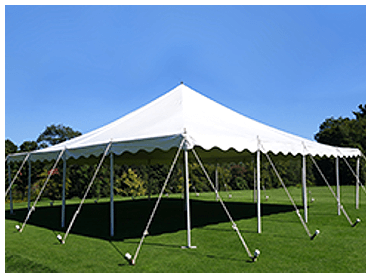 Package A 20×20 Pole Tent, 4 tables and 32 chairs $420
Package B 20×30 Pole Tent, 6 tables and 48 chairs $530
Package C 20×40 Pole Tent, 8 tables and 64 chairs $665
Package Frame A 20×20 Frame Tent, 4 Tables, 32 Chairs
Call for Pricing
Package Frame B 20×30 Frame Tent, 6 Tables, 48 Chairs
Call for Pricing
Package Frame C 20×40 Frame Tent, 8 Tables, 64 Chairs
Call for Pricing